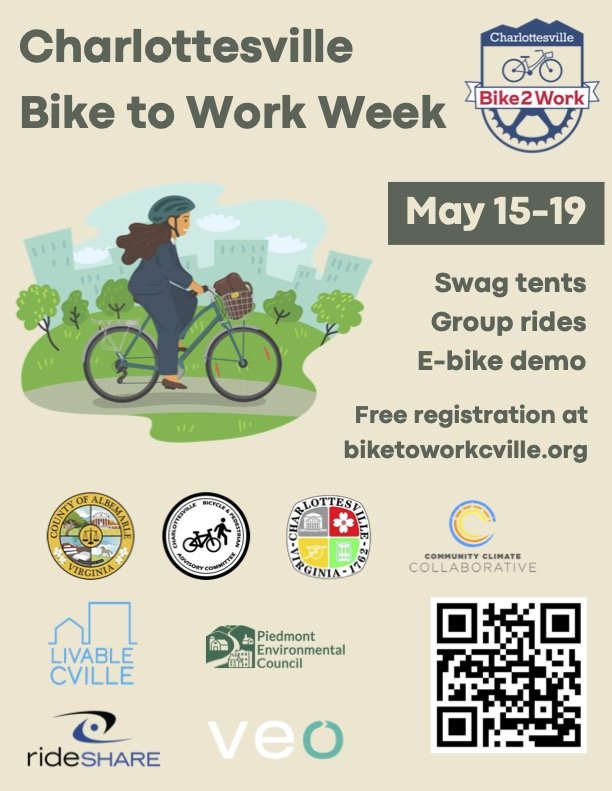 May is Bike Month!
This year, a coalition of nonprofits, local governments, and volunteers is organizing Charlottesville's annual Bike to Work Week, from May 15-19. All in the Charlottesville/Albemarle area are invited to bike throughout the week, whether it's to work, to school, or just for fun.
For the first time, Bike to Work includes a full week of activities, including a kickoff on May 15 at Three Notch'd Craft Kitchen (520 Second St SE, Charlottesville), a Bike Bus on May 16, and an E-bike demonstration on May 18.
Community members can visit our website for the full schedule of events each day and pledge to bike throughout the week at https://biketoworkcville.org
In addition, all month long you can log your bike-to-work trips for a chance to win a $100 gift card from the Virginia Department of Rail and Public Transportation. Each trip logged is a chance to win!
To sign-up and start logging trips today, visit www.rideshareinfo.org and download the RideShare app. You can also find bike safety tips, bike laws, and other biking information at BikeVA.org
Transportation is the largest source of greenhouse gas emissions in Virginia. Replacing short car trips with biking lowers emissions, improves air quality, and reduces traffic—and it's fun! Biking, walking, and taking public transit also build healthy habits, reduce stress, and strengthen community ties. The Bike to Work Week events strive to do just that: galvanize the Charlottesville/Albemarle community and make everyone feel welcome biking to work.