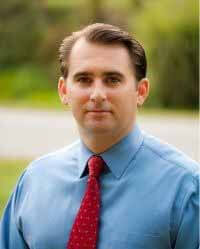 TJPDC Chair Ned Gallaway
Ned Gallaway is a representative for Albemarle County, where he has served on the Board of Supervisors since January 2018. He represents the Rio District.
Q: How long have you served on the Commission, and what TJPDC program/project excites you?
A: I'm in my fourth year on the Commission and I was thrilled the Commission created the Regional Housing Partnership, which has been my primary focus since its creation. I have also served on the CA-MPO since I was first elected to the BOS, which has been my longest-standing commitment with the TJPDC. 
Q: What is your field or work/career?
A: I am the General Manager of HoneyCar Charlottesville, a local used car retail dealership.
Q: What is a hobby or fun fact you'd like to share?
A: I enjoy kayaking when I have the time, I especially like to paddle the local lakes and reservoirs.