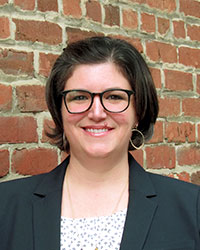 Christine Jacobs, Executive Director
Christine joined the TJPDC in 2018 as Housing Program Manager, and then later served as the Chief Operating Officer. This past fall she was named Executive Director. 
Q: What prompted you to switch careers after a successful 15-years in education?
A: I loved teaching. I loved connecting with youth in our community and addressing systemic issues in our education system.  However, I found that many of the issues that presented hurdles, or even barriers, to my students' success were larger, systemic policy issues.  For example, parents of my most vulnerable students could not come to parent/teacher conferences due to unreliable transit/high transportation costs. Or, low-income students would leave my school mid-year, only to return the following year as their parents had to move apartments when the rent increased.  Housing affordability, reliable public transit, access to affordable broadband, economic development, and transportation planning were all issues that I was interested in learning more about. At 37 years old with two kids under the age of 4, I decided to return full-time to graduate school at the Frank Batten School of Leadership and Public Policy to get a Master of Public Policy.  I was ready to continue public service in a new capacity and found the TJPDC to be a perfect fit to serve and support our local governments to address larger regional issues.
Q: What is a fun fact that you would like to share?
A: I love unique travel experiences and crave exploration in new places.  I have been canyoning through the Swiss Alps, stayed in grass hut rondavels in small villages in South Africa, explored terracotta warriors in Xi'An China, hiked among glaciers in Iceland, and hot air ballooned in Sedona, Arizona.  Surprisingly, I am quite frugal when I travel, and prefer a picnic in a park and riding public transit to fine dining and rental cars.