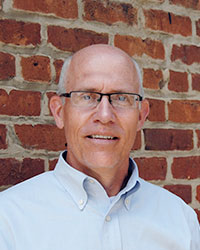 David joined the TJPDC in 1999 as a part-time Legislative Liaison, later transitioning to Director of Legislative Services and then being named Deputy Director. Since 2018, he also has served as Executive Director of the Virginia Association of Planning District Commissions. 
During his time at the PDC, he has overseen development of the annual legislative program and worked with local governments in the region to secure passage of dozens of locally-requested legislative initiatives. 
David is a graduate of James Madison University.
Q: How did you first get interested in legislative (lobbying) work?
A: I guess you could say that certain stars aligned for me. I was working in the media in Charlottesville (more on that later), when a friend who previously transitioned from media work to a government relations job, reached out to me about taking over for him when he went back to law school. I got the job and began lobbying on behalf of local school boards. The transition was tough, but I soon found I loved the work, was developing an understanding of policy and more importantly, was having meaningful interactions with state policymakers, local officials and fellow lobbyists. I learned the extraordinary value of developing relationships and building trust with those with whom you are working, which remains at the top of my priority list when working with our local governments and others in this region.
Q: So, tell us more about working in the media?
A: Radio broadcasting fascinated me as a highschooler and college student. I first came to the Charlottesville area in the late 1980's to be a news reporter at a local radio station. I sat in a lot of local government and school board meetings, covered events at UVa and did general assignment reporting, as well as on-air broadcasts. That exposure to local policymaking in my early years certainly helped prepare me to work with local officials on behalf of the TJPDC. Sidebar: my family still cringes whenever I put my "radio voice" on display!