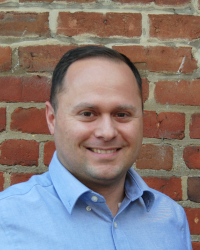 Gorjan Gjorgjievski, an administrative project assistant for the VATI 2022: TJPDC/Firefly – RISE project at TJPDC. Gorjan has been working with us for six months and has quickly become an integral part of our team working with our VATI program.
Q: How did you end up at TJPDC?
A: I spent the first 28 years of my life living in Macedonia. However, circumstances led me on an unexpected journey, and in 2016, I found myself residing in the United States. In January 2022, I obtained my US citizenship, marking a significant turning point in my life. I consider myself a team player and problem solver, always willing to lend a helping hand and find creative solutions to challenges that arise. My attention to detail and organizational skills have helped the VATI 2022: TJPDC/Firefly – RISE project stay on track. 
Q: How do you like to spend your non-work time?
A: I enjoy a variety of hobbies and interests, including traveling and exploring different cultures. I love watching soccer and going hiking in the natural scenery of Virginia. I also enjoy cooking and experimenting with new recipes. Above all, I value spending time with my family and cherish the moments I get to spend with my loved ones.