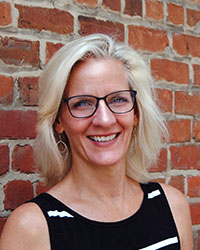 Gretchen Thomas, Administrative Assistant
Gretchen joined the TJPDC in March of 2011 as the Administrative Assistant, she is the often the first person people encounter at the PDC, whether on the phone or at the front desk. Through her role she provides support to all staff and programs, including minutes for meetings, support for events, coordinating meeting space requests, and general office needs. As the staff like to say, she's the glue that keeps all of us together.  Gretchen also played an integral part in creating the process and structure for data collection and management of the Blue Ridge Cigarette Tax Board, and processes monthly reports and remittances from cigarette distributors.
Q: What led you to the TJPDC?
I studied Psychology at Virginia Tech, and have had a variety of careers before joining the TJPDC. I've been an event planner, worked in the restaurant industry, ran an administrative company from my home while raising three children, worked in education as both a development director and an assistant admissions director, and was also a hiring and procurement manager. I think what many of these have in common is working with people, which is exactly what I do at the PDC. 
Q: What's something you'd like to share about yourself?
If you can't tell from the information above, I'm a helper. It's something I take pride in. I am a cyclist and love to get my hands dirty in my flower garden. I'm also a huge advocate of aging wellness. My hobby is learning how the body works, the science of how we age, the role of nutrition in that process, and how it's all connected.