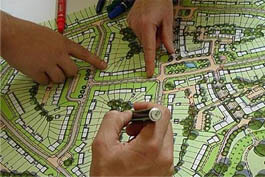 The Thomas Jefferson Planning District Commission (TJPDC) has been selected to receive an $857,600 Safe Streets and Roads for All (SS4A) award from the United States Department of Transportation (U.S. DOT) to develop a Comprehensive Safety Action Plan for all jurisdictions in Region 10, which includes the Counties of Albemarle, Fluvanna, Greene, Louisa, and Nelson, and the City of Charlottesville.
The Bipartisan Infrastructure Law (BIL) established the new SS4A discretionary grant program to provide $5 billion over five years for regional, local, and Tribal initiatives to make the nation's roadways safer for everyone. U.S. Transportation Secretary Pete Buttigieg announced more than $800 million in grant awards for 510 projects in the first round of the program. The U.S. DOT awarded 473 action plan grants and 37 grants for implementation projects across the United States.  Eighteen grants totaling $7,060,814 were awarded in Virginia.
The TJPDC's comprehensive safety action plan will establish prioritized projects and strategies for each locality to effectively reduce roadway fatalities and serious injuries through consideration of policies and procedures, public education, and infrastructure investment. A regional approach promotes cross-jurisdictional communication, coordination, and planning to develop strategies that address site-specific and systemic safety concerns. Further, it will include safety considerations for all users in both the rural and urban localities.
The federal award amount will be matched by an additional $214,400 in local contributions for an estimated total project cost of $1,072,000. Additional technical assistance will be provided by the Virginia Department of Transportation.  "The TJPDC is pleased to collaborate with our member jurisdictions to identify strategies to improve safety outcomes throughout the regional transportation system. We are excited to leverage federal funding to support the development of local priorities and to open opportunities for additional resources to address the identified needs," said Christine Jacobs, TJPDC Executive Director.  "Safety is an ongoing priority in addressing transportation system needs. Through this grant award, the TJPDC continues its leadership in addressing critical regional priorities and is pleased to collaboratively develop this resource for the member governments," said TJPDC Chair, Ned Gallaway.