VATI 2022: TJPDC/Firefly - RISE Project
Partners for Broadband Solutions in Central Virginia
The Thomas Jefferson Planning District Commission (TJPDC) has partnered with Firefly Fiber Broadband (Firefly) to provide access to gigabit high speed internet broadband services for more than 36,000 homes and businesses throughout central Virginia.  This project, called the VATI 2022: TJPDC/Firefly – RISE Project, provides universal broadband in 13 counties across five regional planning district regions, to include Albemarle, Amherst, Appomattox, Buckingham, Campbell, Cumberland, Fluvanna, Goochland, Greene, Louisa, Madison, Nelson and Powhatan
In August 2022, the TJPDC entered into an agreement with the Virginia Department of Housing and Community Development (DHCD) for a Virginia Telecommunication Initiative (VATI-) funded "super regional" project to make gigabit speed universal broadband service available to locations that qualified as unserved under the 2022 VATI grant program guidelines. The project service area builds off a Central Virginia Electric Cooperative (CVEC) fiber network buildout, with construction supported by federal, state and local funding to reach unserved locations throughout Central Virginia.
The cost of the three-year project totals $288 million, which includes the support of the $79 million VATI grant, as well as $209 million in contributions from the 13 local governments and utility service providers Firefly Fiber Broadband, Dominion Energy and Rappahannock Electric Cooperative. Appalachian Power is also supporting this project by providing their infrastructure for Firefly's fiber construction in some areas of the project.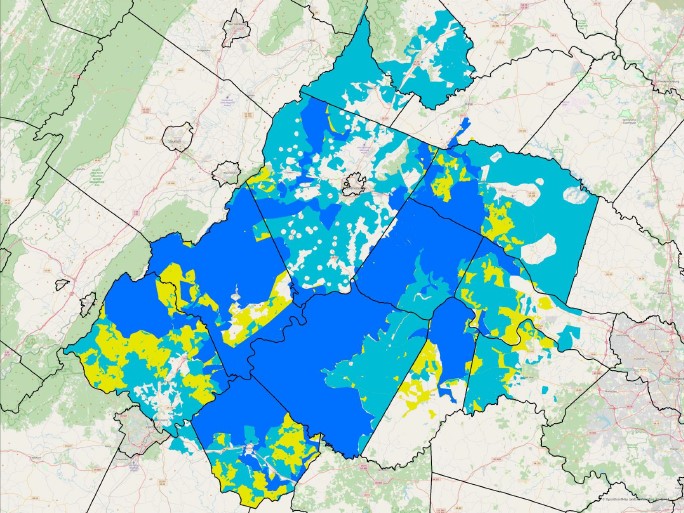 As the VATI grant administrator, TJPDC serves as a consistent link between the project, the counties, and the State, while managing the financial and reporting aspects of the project.
Firefly Fiber Broadband is constructing this project.
Contact Firefly:
Contact TJPDC:
million (utilities and local match)
homes/businesses to be served
utility service providers
miles of fiber to be constructed
Building More Broadband (VATI 2023)
In August 2022, TJPDC and Firefly submitted an application for VATI 2023 funding, which would expand the TJPDC/Firefly – RISE Project by an additional 311 miles of fiber construction providing gigabit speed internet services to 3,625 more locations.
This expansion would include services to residences and businesses in four counties (Albemarle, Cumberland, Greene and Madison). If this grant is awarded, the total cost of this project would be just over $23 million, with the VATI grant request being just under $13 million. The counties will be contributing about $1.1 million, with the utilities providing about $9 million as match. This proposal continues to balance private investment with the necessary grant funds to make the project economically feasible and to deliver gigabit speed broadband availability to additional locations within the region.
The project area for the 2023 VATI funding application was selected carefully to ensure universal broadband service availability to every unserved location in a contiguous rural region of Central Virginia. It will extend the fiber optic network to reach newly-eligible (according to VATI 2023 Program Guidelines and Criteria) unserved locations throughout Central Virginia. 
DHCD received 35 applications seeking more than $300 million  for only $59.5 million in available VATI 2023 funding. While our application was strong, TJPDC was informed on May 11 that our proposal will not be funded this round.  VATI 2024 will provide additional grant funding opportunities. The VATI 2024 program guidelines, which will be supplemented by Federal Broadband Equity, Access, and Deployment (BEAD) program funds, are anticipated to be rolled out by DHCD within the next couple of months.